The A2B Journey – 657.0 Miles, CSP Service Rd, Northern Arizona: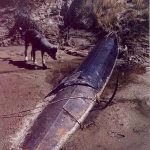 Another quiet run on the Coal Slurry Pipeline service road. This part of the road runs directly eastward in a straight line for the next 10 miles.
It will be another 15 miles before we see anything other than lonely landscapes and pipelines. Gotta keep moving!
The Run:
Feeling a few extra ounces of soreness this morning, I gave added time to stretching, especially my quads and left IT Band.
Cooler-than-normal temps made for a lighter start. I was able to move into target pace quickly.
As I approached the 1.5-mile mark, I was extra mindful. I did not want the accidental mid-course change that I made yesterday.
As I approached a particularly busy intersection, I looked and saw that the "Walk" signal was on. I also noticed a car quickly approaching the intersection. The driver was already looking left for traffic in hopes of making a quick right turn. Rather than challenge the unaware driver to a race through the intersection, I stopped and waited for the car to complete the illegal turn. (My knees thanked me.)
The driver of the next car recognized that I had the "Walk" sign and waved, indicating that I could cross over, sans fear. I waved and said "Thank you!" in return. (Two-way acknowledgement is essential to safety! Plus, it's polite.)
The remainder of the run was uneventful and quiet.
The Mind (Thoughts While Running):
Just before heading out on the morning run, I checked the track and field schedule for Day 11 of the 2016 Olympic Games in Rio de Janeiro. I noticed that among the day's events is the Women's 1500m finals.
I spent a good part of my run thinking about Brenda Martinez, one of the athletes representing the United States in the Women's 1500m.
At the US Olympic time trials in Eugene, Oregon, Brenda was running in the Women's 800m finals. As she rounded the last turn, she was in second place and moving up fast. Her spot on the Olympic team seemed certain. Then with 150 meters remaining, it appeared that she got clipped. Brenda, along with another runner, Alysia Montano, tripped and fell behind the pack. As a result, Brenda did not make the team for the Women's 800m. A truly heartbreaking moment…
I remember being in awe at the press Q&A immediately after the race. While visibly feeling frustration and sadness, she was already turning her mind and heart forward to the next race, the Women's 1500m. How amazing it was to witness that transition!
Over the next six days, Brenda endured through two heats and the finals for the 1500m. She won her spot on the Olympic team by 0.03 seconds, a photo finish. Shortly after, she was asked what her thoughts were about three hundredths of a second determining whether she'd make it to the Olympics or not. She quickly responded with, "That's what got me a medal at the world championships. So you don't give up on yourself… Ever!"
I love that response! It is a quick view into the mind of a world-class athlete. Mind management, according to Brenda Martinez, suggests that perseverance, endurance and never giving up on yourself ever = 0.03 seconds. And that three hundredths of a second matters! It is the difference between reaching your goal and not, between winning and losing, between excellence and something less than.
There is one more personal facet to Brenda Martinez's story that has left a deep impression on me. Shortly after the devastating 800m race at the Olympic trials in Eugene, she paused to sign an autograph for my niece and take this picture. In spite of everything that had just happened, Brenda was kind, warm, and grateful.
Brenda Martinez qualified through Round 1 of the Women's 1500m. Unfortunately, she did not make it through Semi-Finals. After the Semi-Finals, she tweeted, "Behind every strong, independent women lies a broken little girl who had to learn to get back up! I will be back!"
Regardless of the outcome, this young athlete has left me inspired and strengthened.
Are there any other Olympic Athlete stories to offer? Or other comments? Please share!
Facebook: http://www.facebook.com/A2BRun
Twitter: https://twitter.com/A2BRun
Email: a2b@sub4minds.com
Or in the comments section below.