The Run
Quiet run this morning. Not a lot of people out. But's that's okay. I enjoyed the solitude.
First time out with the new pair of shoes. I have worn them around for a few days to break them in. So I shouldn't have to worry about blisters. But still, I pay attention on the first run or two with new shoes. At two miles, it feels like I might have tied them a little tight. So as I come to an intersection, I take advantage of the red light and very quickly loosened the knot.
I can already tell a difference with my left leg. The new shoes are helping some. But I'll have to keep watching it.
The Mind
This morning I took advantage of the calm to reflect with immense gratefulness on the past year and then look ahead with grand excitement at the next few months. There is so much to do. So much to look forward to! It is so hard to put into words. I didn't really proactively think about anything. I just felt overwhelming gratitude. For the unforgettable people and events of the past year! For the challenges I will encounter and the outcomes that I create as I press forward toward my goals.
The Journey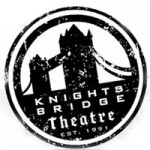 This morning saw a small handful of "Firsts" on the A2B Journey!! Early in today's course, I passed in front of the Knightsbridge Theater. This is where my wonderful cousin, Karyn, has done a lot of her work as actress! Now playing at the theater is Shakespeare's, A Midsummer Night's Dream. If you are in the area, you should go see it. I hear it's a hit! (A very palpable hit!) We will see Karyn again in about ten more miles!!
Not too far down the road, I got to do the first of many family "run-by's." I ran by my cousin Mallory's place. (Actually, I think she is a second cousin. Can't quite figure out the genealogical algebra.) I waved and shouted, but either she didn't hear me or she must have already left for work. Oddly enough, there was this guy out front with a guitar – a John Gallagher or something – playing Green Day covers. Anyway, maybe I'll have the chance to see Mallory again when I make it to New York City and/or Boston.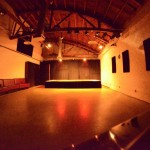 Finished todays run in front of Darring Studios on York Blvd in LA proper! Darring is not just a recording studio, but also a facility for film, photography, art showings, etc.
Finally, today's last "big" milestone is that I am now 38.3 miles down the A2B Path. A little more than 1% of the A2B Journey is complete! Can 1% be considered a big milestone? In this case, Yes! I think so! Now I just need to do what I've done 99 more times and I am there in Boston! Sweet!