The Journey – 308.4 Miles: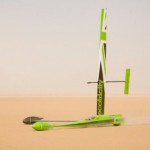 Just outside of the north side of the Mojave National Preserve, the A2B Route wound its way past the little town of Nipton, California, population 20. There is a little café that claims to sell the "Best Burgers in Nipton." Of course it is the only restaurant of any kind in Nipton.
Just outside of Nipton is the Ivanpah Dry Lake. This area is popular for several non-traditional outdoor activities such as land sailing and kite buggying. International championship land sailing events are held here. Moreover, in March of 2009, The Greenbird piloted by Richard Jenkins smashed the world land speed record for wind powered vehicles, recording a run clocked at 126.1 mph.
The Run:
I did another evening run with the Charlotte Runners. This was in a different part of town and with an almost entirely different group than last Monday. The runners in this group were mostly younger. The course followed an out and back route. As before there were lots of hills. So it was nice and challenging!
There were a couple of other big issues that I had to deal with. First, the afternoon heat was the most intense that I have experienced this year. Most of us came prepared with lots of water (to be used before, during, and after the run). Even with staying hydrated, it was one seriously hot run!!
The next major annoyance was my own fault. I forgot to bring a hat. I always wear a hat when I run. In the winter, it is to help stay warm. But in warmer weather, its sole purpose is to keep sweat off my face and out of my eyes. Rather than get distracted by it, I chose to focus on two things, keeping a steady pace and the person in front of me.
I did make a mental note to start paying closer attention and extra stretch time to my right ankle and calf. It hurt a little and seemed extra tight during the first two miles.
All in all, I was happy with tonight's run. With the heat, hills, and sweat, I still ran a pretty good time.
The Mind:
Today was an unusual group run. After starting, most runners quickly found their desired pace and more or less stayed there. But I experienced a few tortoise and hare moments.
There were a few runners who started the run with strong strides for the first few miles. But the heat and hills eventually took their toll on those that came unprepared for such conditions. The few who fell out had to either walk or they had stop, sit, and rest for a while.
Also, there were a few who would run in very powerful, almost sprint-like spurts for a few hundred yards, then slow down considerably. After a few minutes of rest, they would surge again. For a while, it seemed like a game of cat and mouse. In extreme heat, the afterburner approach is usually not a great idea to long distance running. Like the others, their fuel gauges eventually fell to empty.
Though tonight's run was not a race, it was the more seasoned and prepared runners (not necessarily the fastest) that came in ahead of everyone else and then ran back to check on others.
There are times and races when a flat-out sprint is appropriate or needed. But as I watched all of this happening, I decided that I like being the tortoise.
Who would you rather be? The tortoise? Or the hare? And why?