The Journey – 193.7 Miles: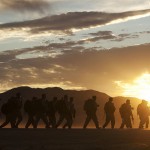 Leaving the city of Twentynine Palms, the A2B Run turns northeast into a seemingly forsaken part of the Marine Corps Air Ground Combat Center area. This part of the base has some rough terrain with a lot of steep uphill and downhill grades.
The base is the largest military training area in the United States, and as a result, has the largest training program. The training program is known as Mojave Viper.
Finally, this is where some scenes from the old TV show Gomer Pyle were filmed. There is also Tim Allen connection!
The Run:
I didn't stretch very much this morning! I could feel it in my stride all throughout the run. Everything was very tight. I made sure to take time to do a nice post-run stretch.
I passed by several joggers/runners (Yes! There is a difference!) who were talking on their cell phones while running. Most were using various kinds of hands free devices. However, one had her phone to her ear, just talking away. This always strikes me in a funny way. I am a heavy user and advocate of technology in our daily lives. But, I would never take a call while out for a run. There is a time a time and place to unplug.
As for me, I enjoy the loneliness and disconnectedness of long distance running. I often say that it is my Zen time.
The Mind:
Spent most of the run looking ahead at the rest of the week. We are heading to a family reunion today. Then, I'll be moving into a new apartment this weekend. A lot to do in a very short period of time. So, I used the run time to make sure that I have all my ducks in row. I also reviewed remaining items that need attention.
In the middle of thinking about the reunion, a few random ideas just popped into my head for A2B. A couple of them were inspired by a suggestion that my cousin shared with me last week. I wrote them down when I got back. There is so much to do on A2B (not just the blog). So little time. So little "cha-ching."