The Journey – 327.0 Miles: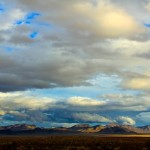 Today's leg of the A2B Journey reached the small commercial town of Jean, Nevada. The town has no listed residents. However, many people in nearby communities have a "Jean" mailing address because the main Post Office for the local ZIP code sits in Jean. In 1905, the original Postmaster named this community after his wife. (Either he loved his wife deeply, or was in trouble for something, or both.)
Jean is that location of the Last Spike where on January 30, 1905, track crews constructing the Union Pacific railroad line west from Salt Lake City met track crews constructing east from Los Angeles.
Also, Jean was the starting line for the Las Vegas Marathon from 1967 – 2004, which is an indication of how quickly A2B is approaching Sin City.
The Run:
I knew it was going to be a long hot run. Plus, my right calf and ankle have been unusually tight lately. To prepare, I stretched for a good, long while. I used my calf stretcher between each stretch exercise in my routine. Also, I drove out to drop off some Gatorade somewhere between miles 4 – 5 of today's planned route.
The first half of the course was on a local greenway that had only a few small hills. The wide pathway held a steady stream of walkers, cyclists, and other runners.
Upon leaving the greenway, I was greeted by a long steady uphill climb for the next mile. The low grade slope was not nearly as challenging as the length of the hill. Endurance was the order of the day. My reward for 'conquering' the hill was a half frozen bottle of Gatorade! Reward in hand, I increased my pace.
The last three miles was flat with a few quick downhill drops. I increased my pace again in the last mile.
After finishing the run, I walked it off for about 10 minutes, followed by a long post-run stretch.
The Mind:
There are some intangible (and sometimes under-appreciated) benefits to living and running in an active community. I enjoy the friendly exchange of Hello's, nods, and waves on my daily runs. It is especially nice when smiles are traded across the sidewalk.
For whatever reason, the smiles of those sharing / crossing my path really stood out this morning. Perhaps, they have been there the entire time and I have been slow to notice. As I ran, I recognized and thought about the power of this small, silent gesture.
A warm smile from a complete stranger – or better yet, a family member or friend – can add a little light to the darker moments, running or otherwise.
A genuine smile has the capacity to strengthen and lift. Even if it only slightly, it can be just enough to offer a new perspective.
A particularly bright smile can magically energize or rejuvenate, especially when combined with laughter.
I got to experience all of that on my run today. What an amazing and interesting phenomenon a simple smile is. It lifts, lights, energizes, and strengthens. I suppose "hope" should be added to the list, as well.
In the last couple of miles of my run, I was feeling really, really good. I was pretty much smiling the whole way home. I wondered if my smile gave to others the same gifts that others had given me. I sincerely hope so.
Follow and communicate with A2B at:
Facebook: http://www.facebook.com/A2BRun
Twitter: https://twitter.com/RunA2B
Email: a2b@sub4minds.com
Or in the comments section below.