The Journey – 422.0 Miles: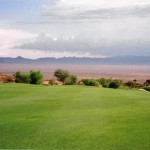 The A2B Route mostly covered the desert terrain between Henderson and Boulder City, Nevada. Rather than staying on the road, the route followed the River Mountains Loop Trail. The trail passed directly behind the Railroad Pass Casino and Hotel. Today's leg of the route stopped at the entrance to the Cascata Golf Course, known for its fairways framed by canyon walls.
The Run: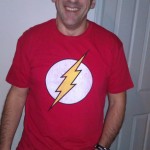 Even though the sun was already on the rise, it was still a little dark when I started my run. The morning would need another 15 – 20 minutes before being sufficiently light enough to be seen by most drivers. So, I made sure to wear shorts and a t-shirt with reflective screen-printing and piping.
I decided to run a few fartleks this morning. I chose a route that has 3 long stretches with no intersections or other potential interruptions. On my iPod, I had several faster playlists ready to go, in case I wanted to use music to pace me on a particular fartlek.
I ended up running one quarter mile length as hard as I could before returning to normal pace. For the next fartlek, I merely increased my pace to what, for me, would be an aggressive speed. I stayed at that tempo for a little more than a mile.
At the end of my run, I was excited to see how I did time-wise. It was only when I crossed my finish line that I noticed that I hadn't started my stopwatch. Either that or I really am Flash!
The Mind:

Today is my oldest daughter's birthday. On major milestone days like today, my mother's "reminiscing gene" kicks in. Among other things, I thought about memories that my daughter and I have shared. Everything from how I would get her to sleep when she was a baby to our cross country road trip last summer. So many happy stories and memories!!
She has the most infectious laugh. I have voice mails and little video clips that I have saved just so I can hear her laugh or giggle.
She is very artistic and sees everything completely different than I do. I love this part of her. I love seeing the world through her eyes and from her perspective.
She is a good sister and loves being with her siblings.
She is one of the most determined people I know.
More than anything, she is beautiful.
I love who she is.
I love my all of my children. I am one blessed Dad. But on this day, I am especially thankful for 19 years of Kylie.
Do you have any additional thoughts or ideas to share? Please post them at:
Facebook: http://www.facebook.com/A2BRun
Twitter: https://twitter.com/RunA2B
Email: a2b@sub4minds.com
Or in the comments section below