The Journey – 404.5 Miles
: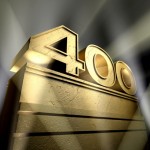 Today's magic number is 400!! The A2B Journey crossed the 400 mile mark on the corner of Sunset and Paradise Roads in southeast Las Vegas. Only 3,900 miles to go before Boston!
As always, thank you to those who are following the A2B Journey! Thank you for your support and comments. Looking forward to what discoveries lie ahead the next hundred miles.
On to 500 at the Grand Canyon!
The Run:
Heavy rain ruled out an early morning run. However, it soon tapered off and then stopped altogether by about 9:00 am. Seeing an opportunity to get my run in, I stretched as much as 15 minutes would allow.
Because of the rain, the temperature seemed to be on the cooler side of 65 degrees. The humidity more than offset the slight chill.
I debated switching from the planned 6-miler to a 4-mile route with quick turn-back options should the rain return. After a quick look at the sky (and checking the weather apps on my mobile), I decided stick with the 6-mile plan. Besides, with the heavy humidity, a little rain would be welcomed.
Right away, I fell into a nice, but challenging pace.
The route du jour starts with a half mile downhill descent. The next 3 miles consisted of continuous rolling hills. I enjoy the continuous challenge and reward of that section of the course. The very flat 1 ½ miles along the greenway that followed allowed me to rest and prepare for the final mile – a demanding and twisting uphill climb.
As I turned a corner entering the last ½ mile ascent, I switched my iPod to a playlist with faster paced music. A fun song by Lee Dewyze called "Sweet Serendipity" carried me to my finish line.
The Mind:
The mother of a good friend of mine recently passed away after living a full, long life. On the run today, my thoughts were centered around my friend and her family as they will attend the funeral today. I wondered how she is holding up. (Although I know that there is no need to worry. She is a very strong person, perhaps more than she knows.)
Days like this evoke a lot of emotions, memories, and questions. The emotions and memories vary from person to person. I know that my friend's mourning is born from love and countless memories full of laughter. Thinking of her and her family this way makes me smile.
The questions that arise from loss almost always boil down to "What is most important?" It is certainly among the most contemplated 4 words throughout time. Like emotions and memories, the answers vary from to person. I suppose it is one question with many answers.
Under a different context, I have contemplated this question over the past couple of years. I have pondered the various aspects of this simple, yet multi-faceted, question. Each conclusion I reached seem to generate more questions.
About a year ago, I realized that questions like this serve no good purpose unless they cause a person to take some action. With that, I decided to construct my follow-up questions in such a way to drive and measure my actions ( or lack of actions).
For example, if I think a legacy is important, the result question would be "What do I want for a legacy?" From there, I can ask what thing (little or big) am I doing today to create it. For me, that might be working on A2B or practicing piano.
Over time, I have journaled my thoughts about what is important to me. I have discovered two common threads in all of it. The first thread is time. The other, people.
I believe a person should enjoy what they are doing and how they use their time. In other words, time should be spent on doing, working on, or creating the things you love. And if you leverage time using your unique set of gifts and talents, then this is the highest and best use of the time that you have.
Similarly, it is important to choose to be with or around people that you love and who love you. There has to be that balance of loving and being loved. (Otherwise, it is toxic.)
Combining them means using your time doing what you love with and/or for the people that you love. So, for me, what's most important comes down to this. Life is meant to be enjoyed doing what you love with those you love the most.
What's most important to you? Please share at:
Facebook: http://www.facebook.com/A2BRun
Twitter: https://twitter.com/RunA2B
Email: a2b@sub4minds.com
Or in the comments section below