The Journey – 212.2 Miles: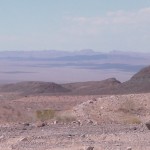 The A2B Route led out of the Marine Corps Air Ground Combat Center area on a road called the Bagdad Highway. A downhill run all the way, the run is at its lowest altitude (about 622 feet) since I did my cool down at the Toyota Speedway in Irwindale, California. The route will soon ascend to 4,200 feet in the Mojave National Preserve.
Finished up the run just west of Amboy, California.
The Run:
Rain throughout a summer night makes for a very humid morning! With a busy day ahead, I got an earlier than usual start . The early morning coolness dissipated quickly as the sun rose. Just as I have for the past two days, my runs were out and back, with the first half being up hill. Today's run was a much steeper grade on a curvy mountain road. Each direction had its challenges, both uphill and down. The hardest part about today's long uphill run was not being able to see the crests and plateaus. So it was hard to determine how much to dig into to the hill not knowing how long it would be before a chance to rest and run easy for a second or two.
Downhills can also be hard to manage. They can pound you pretty hard. So I focus a lot on my stride.
All in all, though, a fantastic run!! I was especially pleased with the uphill!
The Mind:
My thoughts were centered around my family. For the past few days, my three youngest children and I have been at a family reunion in the North Georgia Mountains. I love this time because I get to see my children having fun with their cousins and with each other. It is a happy time.
I was missing my oldest son who was working and, therefore, unable to attend. Late yesterday, as I was walking to my cabin, I heard a very loud noise. I turned around and their, on his motorcycle, was my oldest. I was so excited! I ran to get my daughters, thinking that they would be surprised and ecstatic! But the surprise was on me. My kids had collaborated to surprise me with his arrival. I love them for that!
So for a little while, I got to be an active Dad to and with all four of my kids!! I watched them become puppies as they played and laughed together. Last night, I fell asleep to the sound of their laughter. It is one of my most favorite sounds.
So as I ran, I thought about how thankful I am to have gotten to spend time this weekend with ALL of the people that I love the most.