The Run:
Rain just before dawn made for a VERY humid run this morning. As I head out, I check my weather app . . . . . 70 degrees with 85% humidity! Before the first stride, I know it is going to be a drenching rainless run! Still, it was a great fun. Endorphins galore!!!
The Mind:
I spent time on this run thinking about a random series of about a half-dozen interviews that I just happen to have seen or heard in the past 48 hours. Each person interviewed had reached some level of success and recognition in their respective fields. Everything from authors to actors. Interestingly, there were a couple of common threads in all the conversations. All highlighted the value of persistence and continuous work on the path to personal achievement.
Persistence, to this group of champions, means striving without end towards the realization of some vision. Or, it means passion for some part your life's work. They stressed the absolute requirement to never give up. It demands determined resilience to overcome discouragement and to keep moving! Their best advice for despair and keeping self-pity at bay leads to the other key to accomplishment – continuous work.
All specifically mentioned the need to never turn down work as you never know to where the work will lead. Aside from paying a few bills, the work itself has several direct benefits. First, it is the perfect distraction from discouragement. But more importantly, it serves to keep you focused on your vision and/or success.
I was amazed at the consistency of each message. As I ran and considered all of this, I remembered that persistence and work do not just fall into a person's life. Rather, there are willful, deliberate acts.
As I finished today's run, I was thankful for the timely random reminders that I have received.
The Journey – 155.2 Miles: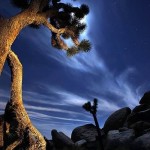 The virtual run along the A2B Route led to midway between Morongo Valley and Yucca Valley. Based upon the roadside vegetation, it is readily apparent where Yucca Valley gets its name. Also the landscape is quickly changing. There are wind shaped desert hills with rugged mountains and giant, stone monoliths in the distance. While the A2B Journey enters a lonely highway stretch through southwestern deserts, I am looking forward to finding the occasional oasis and other signs of life as we make our way to Las Vegas!