The Run:
I was up very late last night getting through yesterday's To Do List. As a consequence, I found myself caught between an internal battle of wills, the will to sleep in vs. the will to run. My desire to catch up on sleep reluctantly yielded to the drive to meet my running distance goal for the week. In the end, I was very glad that I got my run in. It felt really good! Plus I can feel my left leg gaining strength.
The Mind:
My thoughts on the run were centered on gratitude.
It requires almost no effort to see all that is wrong in the world. But if one chooses to pay attention, the world is FULL of abundance and beauty. The world is full of amazing scenery and creativity. Natural wonders abound. The imagination and ingenuity of women and men are evident in every corner, if you choose to see it.
There is so much beautiful music in the world. For me, music has a powerful influence on how and what I see in the world.
There are good people everywhere who continually add to the world chorus of kindness and thoughtfulness. I am fortunate to be surrounded by these types of people. They give me hope.
I thought about how glad I am to be a partaker and participant in all that is good in the world. I hope that my contribution is at least equal to what I have been given.
The Journey – 95.9 Miles: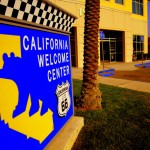 Today, I wound my way from the City of Rialto, through Colton, to San Bernardino. About 1 ½ miles down the road, I ran passed the grave of US Deputy Marshall Morgan S Earp who participated with his big brother, Wyatt, in the Gunfight at the O.K. Corral. Six months later, the 30 year old Morgan was assassinated while playing billiard. (If a question about the young Morgan Earp ever comes up in some random conversation or a game of Trivial Pursuit, then, you're welcomed.)
Today's run ended in front of the California Welcome Center in San Bernadino. This place appears to be a complete clearinghouse of information on current events and activities for folks planning to visit the area.