The Run
I passed by a lot of people on the roads and sidewalks this morning. This by itself is not that unusual. The part of town where I live produces a steady stream of runners, walkers, and cyclists all throughout the day, every day! But this morning, everyone was extra friendly and talkative. I enjoyed that.
The Mind
Happy Mother's Day!!! I have been thinking a lot about the Moms in my life this past week. This morning's run was no exception! Thoughts about the mother of my beautiful children and also my own mother dominated my mind. Both are remarkable women and mothers. Likewise, I thought of my sister, as well as other family and friends that I love and admire. I replayed in my mind a few of the scenes experienced and stories shared by these amazing women. I felt a strangely wonderful mix of laughter and awe. I felt the weight of gratitude.
To sum up in mere words the overwhelming love and thankfulness that I feel is, at best, daunting! To give them the honor and respect that they deserve, beyond impossible!
Still, I hope the mothers in my life will feel and recognize the full measure of love that this humble son, grandson, and father has for them!
The Journey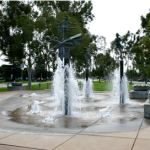 I am now 16.50 miles down the road. I did my virtual cool down by the fountains at Soaring Dreams Plaza in Santa Fe Springs, CA.