The Journey – 188.7 Miles: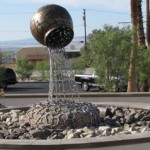 Running forward through the A2B Route, I arrived in the small town in of Twentynine Palms, California. This little desert oasis is sandwiched between the Joshua Tree National Park Headquarters and the Marine Corps Air Ground Combat Center. There are a lot of murals and creative public art scattered throughout town that give it some some personality!
The Run:
I woke up feeling quite restless. I found myself worrying about all of the things that I need to do vs. the things that I want to do (a never-ending tug of war). At moments like this, I use running to burn off some anxiety. So I ran harder than normal this morning. It helped!
The Mind:
I used the combination of solitude and extra helpings of oxygen to the brain to ponder, analyze, and prioritize all the things on my To Do List and my To Want List. I started to match them with my bigger goals. At some point, I recognized that I need to set aside some time to re-align all of my activities with the big picture that I want to paint for myself. Moreover, I realized that there was not enough time on this run to do that. So, I took what I had and made a list of things that I can do today.