The Journey – 349.5 Miles: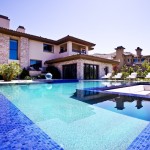 Finally entering Greater Las Vegas, the A2B Route started its 50 mile loop around the city by running past the lavish Southern Highlands Golf Club. This exclusive golf course is where a handful of celebrities and otherwise wealthy folks have homes. A quick flyover with Google Earth offers a birds-eye view of some of the beautiful and impressive homes here.
This leg of the A2B Virtual Run ended near the Mountains Edge Community in South West Las Vegas.
The Run:
Cooler weather made for an extra pleasant run. On a hotter day, I would have put extra water or Gatorade somewhere on the course to pick up mid-run. But this morning's temperatures removed that requirement.
I got up a little early to make sure there would be enough time to get a long run in.
With the earlier than normal start, I was surprised at the large number of runners and walkers out so early. Several times while running through a large park, I had to move out onto the grass to pass random clusters of people. (Running on grass makes me nervous because you cannot always tell how your feet need to land. Grass hides rocks and holes very well.)
It occurred to me during the run that it is time to start looking for another pair of running shoes. This may partly explain the issues that I have been having with my right ankle and calf. I know that I have put at least 300 running miles on the current pair of shoes. I made a mental note to check the sole to see how it is wearing.
As I continued along, I assembled a quick list of places and websites to begin shopping for a new pair.
When runners find a shoe that works for them, they tend to stick with it. For me, that shoe is the Mizuno WaveRider. After a string of persistent injuries several years ago, a friend suggested that I try the Mizunos. They did the trick and have worked well for me ever since. I use them exclusively. Now I only have to decide on color and style. Currently, the Mizuno Wave Rider comes in 6 colors and styles.
So for the rest of my run, I looked at the shoes other runners were wearing. No one brand stood out above others.
During my cool down, I asked other runners how they chose their shoes. Everyone had a reason for choosing the shoe brand and line. Common reasons included injury prevention, lightness, comfort, or how long lasting. When asked why they chose color and style, almost unanimously the answer was, "because these look fast!"
The Mind:
"I'd rather lose myself in passion, than lose my passion."
– Jacques Mayal.
I know, I know, I know . . . . I talk about running a lot!
And, I am unapologetic about it. It is one of my 3 passions. (The other 2 being my children and music.) Interestingly, it is the least of the three.
When talking about running, reactions from most people include changing the subject, yawning, rolling of the eyes, or eyes glazing over. Occasionally, someone will ask "Why?" This is a really good question that should be asked about most things. And it deserves a really good answer, assuming that the question was not asked in the, "Hey! How are you?" greeting context.
For me part of the answer is practical. Running does not require any real hand-eye coordination, which I have absolutely none. It is simply putting one foot in front of the other, over and over and over again. Thankfully, this very basic capability is in my skill set!
Other reasons under the 'practical' banner include no gym membership is required. I can run with a group or alone. I can hit the road anytime and in any place. Plus it serves as a great on-demand stress reliever.
Honestly, however, if those were the only reasons to run, then it would not be enough.
The challenge of running is definitely appealing to me. It's more than just fun. I find a lot of joy in clearing some hurdle or achieving some goal. On this aspect of running, George Sheehan (runner, philosopher, and author) said, "Happiness is different than pleasure. Happiness has something to do with struggling and enduring and accomplishing."
Reaching the runner's high is pretty cool. You feel invincible. I kind of dig that brief endorphin-guided tour of nirvana! But still, that by itself is not enough to generate genuine passion.
For me, something else happens out there. Something very personal. Sometimes, it's clarity. Other times, it's discovery. Especially self-discovery (the kind that cannot come by mere introspection, but rather from introspection combined with movement and action). Lots of times, it is as simple as solitude. There is always a sense of freedom while I am running. You may think it odd, but it is not unusual for me to come back from a run feeling that in some small way I am a better or stronger man than when I left.
As I read back what I have just written, the words seem to fall short. I just know that I enjoy my life much more on days when I can get a run in.
In closing, I will just share Jesse Owens response to the question, "Why?"
"I always loved running . . . it was something you could by yourself, and under your own power. You could go in any direction, fast or slow as you wanted, fighting the wind if you felt like it, seeking out new sights just on the strength of your feet or the courage of your lungs."
______
If you have additional thoughts, please share with A2B at:
Facebook: http://www.facebook.com/A2BRun
Twitter: https://twitter.com/RunA2B
Email: a2b@sub4minds.com
Or in the comments section below