The Journey – 229.7 Miles: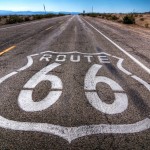 For a few miles, the A2B Journey made its way eastward along Route 66, the Main Street of America. Or as Jules Steinbeck called it, The Mother Road. This highway is a part of American history and culture. It brings to mind images of simpler times, road side inns, unique landmarks, and small town America. Travelers still come from all over the world to experience the charm and history of this old highway.
The last couple of miles of today's leg returned to its northward course towards Interstate- 40 and the Mojave National Preserve.
The Run:
Today's run was fantastic! It was a beautiful morning for a run! I enjoyed crossing paths with some new familiar faces.
This week, I have been in "explorer mode" when it comes to my morning runs. Just having moved to a new neighborhood, I enjoy discovering the local area from the sidewalk point of view, instead of through the windshield of my car. So instead of planning the route, distance, and type of runs for this week, I have chosen to just run for time. For example, today I chose to run for 50-60 minutes. Later in the day, I'll go back and measure the distance so that I can record it on my A2B Journey map.
I am enjoying this week of casual, pleasure runs. But I am looking to run some races in August. So I will soon return to formal, more aggressive training.
The Mind:
Today was my first run as a 47-year-old. So I spent a few minutes reflecting and then looking ahead. A quick annual review, of sorts. In the past, I have been terribly hard on myself at these moments. Like a lot of people, I can be my own harshest critic. For example, I can beat myself up over the fact that I am often surprised at just how few digits there are in my bank balance. (I always think that number should be much larger and that perhaps I should try to find a bank that is run by rabbits!)
Instead, I took a quick look back to June 2011 then moved forward from there. I have to say I smiled and laughed a lot!! I have some of the most fantastic memories with the people that I love the most! I considered the overall progress towards new goals. And while I am certainly not where I think I should be at this point of my life, I am satisfied with the year's progress. I can't say that I have any real regrets. I have loved this year!
Looking ahead, there is so much to do! Rather than get overwhelmed, I choose to get excited because, as I often say, Movement Is Life! Especially movement towards a pre-determined goal or desire. As I did a brief cool down after my run, I created a few milestones that I want to hit in the next few months (even though I have no idea how some of them will be realized). I am also looking very forward to all of the things that will make me smile and laugh on next year's birthday run.
The common thread through all of my thoughts this morning was gratitude. My life at 47 is so drastically different than I ever imagined it would be and I am thankful.