The Journey – 345.5 Miles: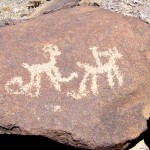 Today's long run followed the A2B Route through Sloan, NV to just below Las Vegas. The run also led past Sloan Canyon National Conservation Area which is home to approximately 1,700 petroglyphs. (Petroglyphs are a form of rock art created by engraving or carving into a rock surface.) The 1,700 individual design elements were created by native cultures from the Archaic to historic era.
The Run:
In recent blog entries, I have written about changes in my training. Part of the design and benefit of it is that my runs are more challenging. The other side of the coin is that I am feeling tightness and soreness in ways that I have never experienced. As a result, I am spending significantly more time stretching.
A lot of the stretches that I do now, I learned in yoga classes.
Some years ago, I had a series of running injuries that kept grounded and frustrated. I tried a number of options to no avail. Then I found a group of people in an online forum discussing the exact same injury and frustration that I was experiencing. The prevailing recommendation was to take a yoga class for a month or so.
With a strange mix of skepticism and desperation to get past this injury, I arrived at my first yoga class. By the end of the week, I was a complete convert. Within a few weeks, I was back on the road.
Lots of runners leverage yoga in their training. (I know the same is true of athletes from others sports.) Some use it simply for the physical benefits like stretching. Others use yoga to balance strength, increase range of motion, and to train the body and mind to focus inward and listen.
Recently, I was invited running friend to join a group of runners for a session of hot yoga, or yoga performed in hot and humid conditions. It was a good class. I learned a few things that I can add to my stretching routine. However, I did not find anything that specifically addressed my current needs. As it turns out, there was a substitute instructor that night. The normal instructor is an active runner who may be able to help. So I will try his class sometime soon.
Back to the run. When I woke this morning, my muscles were so tight and stiff that, for a moment, I wondered if I should skip today's run. Oddly, it was with that very thought that I determined to get going. I started stretching immediately.
I began the run a little slow and cautious, giving the muscles in my legs an extra chance to warm up. After about a mile, I did a quick check to see how everything was feeling and working. Getting a thumbs up all the way around, I gradually picked up the pace. By mile 2, my legs and body were rid of their earlier symptoms.
While I continued to monitor my body, I thoroughly enjoyed the rest of my long run. Every part of me felt alive! I am so glad that I didn't acknowledge the quick urge remain idle this morning. Movement is life!
The Mind:
In every life, people come and people go. Choices and circumstances bring people together. In the same way, choices and circumstances shift people into different directions. I liken it to traveling a highway together for a time, then each taking different turns and exits to reach different destinations. And as we journey along, we become closer to some than others. To a few, we can become very close.
I love this process! It is life enriching!
On my run today, I thought about several people whose love and friendship I have been blessed to enjoy over the past few years. In recent months, they have graduated to new phases in their lives, each taking a new direction. At first, the separation that this creates is hard. It hurts. But then, I see their joy and excitement. Happiness for them dampens my sadness.
As I see them and others moving on to new adventures, I turn inward and consider my path. The path that I have chosen. As I make my way forward, I think about those loved ones and friends whose company I have the pleasure to enjoy. Some are new! Others are re-discovered relationships. And several have always been there. Anxiously, I looked ahead wondering about those I have yet to encounter.
I believe that when people come together – for better or worse – there is a silent exchange of gifts and influence. (I also believe that we choose what we give and receive.)
All in all, I have been surrounded by good people. I still am. And I could not be more grateful. Their often quiet gifts and inspiration are immeasurable. I only hope that my contribution is positive and in some part compensates them in return.
Please share your thoughts with A2B at:
Facebook: http://www.facebook.com/A2BRun
Twitter: https://twitter.com/RunA2B
Email: a2b@sub4minds.com
Or in the comments section below