The Journey – 361.5 Miles: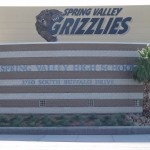 Today's run along the A2B Route led through Spring Valley, a neighborhood on the west side of Las Vegas. I got to "run-by" the home of long-time friend and SuperMom, Teresa Freeman McDonald. Teresa and I have known each other since we were teenagers in Chattanooga, Tennessee. Even though she lives in Las Vegas, she still uses the word "y'all" in all the correct forms. I imagine she still takes two syllables to pronounce one syllable words.
I finished up todays run in front of Spring Valley Community Park and Spring Valley High School
The Run:.
Still unusually humid in Charlotte. I did an evening run with the running club. Working late prevented me from preparing and stretching as much as I would have liked.
As we started, I felt something that I normally do not feel while running. I was hungry! I had eaten an early and very light lunch. So, it was not a huge surprise. Even so, for me to feel hunger on a run is still unusual.
Through past experience, my body has taught me that eating less than 3-4 hours before a run is always a bad idea! (It always leads to me on the side of the road somewhere, usually down on all fours, giving my meal back to Mother Nature. Not pretty. And certainly not fun!) As a result, food and running are rarely on mind at the same time.
But today, I was hungry! So, what did I do? I made a mental note to enjoy a bigger lunch on days when an evening run is planned. Then, I focused on something else.
The rest of the run was mainly uneventful. I did save a little extra dose of energy so that I could hit hard that last half-mile uphill climb and finish strong. My overall time wasn't the best. But I loved running that last part.
The Mind:
As I changed my focus away from food, I thought about a few friends that have recently made sudden, drastic changes in their lives. I thought about one in particular. Finding himself in a difficult and undesirable situation, he abruptly dropped everything and moved to a new city. He ran away. My other friends in different but equally trying circumstances made similar big, impulsive decisions in their attempts to run away.
I am no stranger to running away. I've been in that place. (And paid the price for it.) In fact, many – if not all – people have been in situations where they just needed to get out.
But I have also been fortunate to discover that, like everything in life, there is always a choice. If you are going to run, you can choose to 'run away,' or you can choose to 'run to.' You can run anywhere that is away from something undesirable. Or, you can run directly towards something that you desire.
'Running to' is something much better than 'running away.' 'Running to' means you are looking ahead. 'Running away' means looking back.
'Running away' and looking back emphasizes regret, self-pity, anger, despair, and being a victim. It lets the past determine any direction. It lets the past determine your today and tomorrow.
'Running to' is forward focused. It means taking ownership of your life today and tomorrow. It is about positive, forward movement and action, which seems to me is much more fun and exciting.
'Running to' by its very nature provides a way to measure progress. Even on days when it feels like 2 steps forward and 3 (or 17) steps back, 'running to' allows you to remain oriented and looking ahead to the thing that you want the most. By contrast, 'running away' is more like wandering. There is no way to measure directionless movement. There is no real progress.
Being able to measure your progress offers the opportunity to evaluate and adjust your actions, your habits, or your methods. You might even find a better route.
'Running to' is lets you know where you are and when you have arrived at your destination. 'Running away' only reminds you of where you are not.
As for me, I am 'running to' Boston.
If you have additional thoughts, please share with A2B at:
Facebook: http://www.facebook.com/A2BRun
Twitter: https://twitter.com/RunA2B
Email: a2b@sub4minds.com
Or in the comments section below.