The Run:
So far in this blog, I have written about the fun, feel good aspects of running. But not every run delivers nirvana. Sometimes I never even reach a first wind, much less a second.
Today was one of those runs. It was not fun. It never even got to the point where it felt okay. From first stride, my limbs felt heavy and tired. Several times, I did a systems check to avoid any possible injuries. With about 1.5 miles remaining in the run, my legs and arms felt exhausted. My breathing heavy. My body begged to stop and walk. Music helped me keep a short and powerless pace, but seemed to offer little else.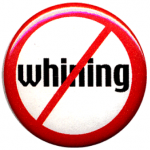 Please do not mistake any of this as complaint, whining or playing the victim. Rather, I share this to say that in running, just like most areas of life, sometimes you just have one of "those" days. And that's okay. For me, today's run served as a test of will and determination. My goal today was simply to complete the full run, and nothing more. To stay focused required extra doses of effort. Self talk and selective thinking (carefully choosing your thoughts) played a big role in completing the run this morning.
As I returned back home, there was no final sprint or surge. There was no fist pumping or victory dance. (Yes. I do that after a good run. And No! I will not be posting any video.) After crossing the finish line, I was tired and exhausted, but satisfied.
I know that my next run will not be like today. But even with that thought in mind, I decide that tomorrow will be my Rest Day for the week. I deserve it after today!
The Journey: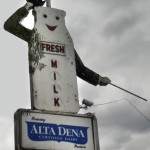 Leaving the Pomona Speedway, I headed southeast through the Los Angeles County Fair Grounds. The route turned back eastward on San Bernardino Avenue where I ran passed the Mr. Milk Bottle convenience store. At some point, San Bernardino Avenue becomes 4th Street. The 7 mile run ended in front of the oldest the family-owned bicycle shop in America, Bumstead's Bicycles of Ontario, CA.
The A2B Run is at 74 miles and closing in on 100!!