The RunX
I consider the first 5-10 minutes of a run the warm up for the rest of the run. I do not enjoy this part of running because it does not feel good. It seems a bit unnatural at first. For example, when I set out this morning, my stride felt a little clumsy and choppy. My breathing had no rhythm and was out of sync with the rest of my body.
Then after about a half mile I started up a long uphill grade. Immediately, I leaned into the hill and raised my arms a little, lifting my knees for a higher stride. At that point, I could feel my body beginning to adjust to higher heart rates and increased effort. I could sense the muscles in my legs starting to loosen up. It would still require a few minutes of focused effort before I would be rewarded with higher energy. But seeing and feeling the beginning signs of that transition is enough to keep me motivated.
The MindX
People are often surprised when I say that I do not enjoy those first few minutes of a run. Or, that first half mile or so is always a bit of a chore. When I first started running again as an adult, I really hated this part of the run!! I had to engage in a LOT of self-talk to get going. And quite often, I lost those arguments with myself. Now, it's not so difficult. I just know that it is a small, but essential hurdle. And that the best way to start is to just start.
I thought about that transition that my body goes through on every run, from "at rest" to endorphins. What an interesting process! I related it to my current transition state. The challenges I face at the moment are daunting, but by design. I have chosen them. For the most part, I am not comfortable right now. But this week, I have seen the first small signs of transition to my current goals. While there is still a great deal of time and effort required to reach that target state, it is enough to keep me pressing forward.
The JourneyX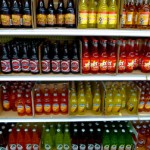 Leaving Darring Studios, I head for Pasadena. About a mile or so up the road, I pass by Galco's Soda Pop Stop!! Non-descript on the outside, FULL of personality on the inside!!! Galco's is just what it says it is, a Soda Pop Stop! They sell over 500 different sodas (or cokes, as we call them in the South) all in glass bottles. If that wasn't enough, they also carry countless half-forgotten candies, over 450 different beers from around the world, and over 60 different types of bottled water.
Currently featured on their web site is Lemmy Sparkling Lemonade, Howdy Lemon Lime, and Mr. Cola, the "Aristocrat of Colas". My cousin, Karyn, recommends "Dang! That's Good!" along with "MacFuddy's Pepper Elixir" and the deadly "Blenheim's Red Cap Ginger Ale!"
And speaking of my cousin Karyn, not only did I get to run by her place, I also completed today's run at the end of her block in Pasadena. So she offered me some lovely lemonade and the chance to do some virtual crashing on her couch!! Her hospitality and support is deeply appreciated!!
At this point, I am just shy of 44 miles on my way to Boston!!