The Run:
After a weekend of long runs, this morning was short run, just 4 miles. (For me, four miles is about as short as I want to run.) During the pre-run stretch, I gave my hamstrings little more attention than normal. Yesterday, they were feeling a little tight. So an ounce of prevention . . . .
Because of the short distance, I did not do any fartleks. Just a straight, easy run.
The Mind:
A quick review of the Monday-morning-back-at-the-office checklist.
Anticipating some lively and heated discussion in several of my meetings today, I thought about how thankful I am for the gift and power of laughter. In all of my normal meetings, there are a few people, one in particular, who have a knack for knowing the perfect moment to inject a bit of comic relief. Usually at the point of unnecessary tension. I believe that short release of positive energy always facilitates better solutions and outcomes
Laughter is one my favorite things. It can make the worst circumstance bearable and the best moments even better! Plus it just feels good!
The Journey – 151.2 Miles: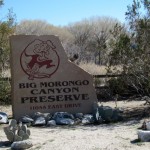 Reaching the north end of the Coachella Valley, the A2B Run enters Morongo Valley, California. Much of this community supports the neighboring Big Morongo Canyon Preserve where wildlife can move freely within this area in search of food and water.
As I get closer to the Mojave Desert, the A2B Route is getting less and less suburban, and is becoming more and more scenic. As long as I don't see any buzzards, I should be fine.