The Run:
I wanted to do a 7 miler today. But, I got up later than planned. So, I wasn't sure if I would be able to fit it in. While stretching, I decided that I could still make it fit.
It was an uneventful run. The route that I took is more functional than anything else. It has a steady supply of hills with a total of about 8 yards of flat throughout the entire course. So it was all up and down. Push and coast.
Mainly running through office and industrial parks, there is not a lot of scenery and visual inspiration. Based upon the looks and reactions I get from vehicle drivers and folks on the sidewalks, I get the feeling that runners here are a rarity. They seem surprised when I smile, wave, and say "Good Morning!" Perhaps if I run this route enough times, they will smile and wave in return.
The Mind:
I recently came across an old notebook that I used for coaching little league soccer back when my children were small. Some of the pages contained notes from books that I had bought to help me be a better coach. There on one of the pages, in my own handwriting, was a line that seemed to jump of the page. It reads "The game is the best coach!"
I thought about that a lot on today's run. When coaching, we would run exercises and drills. But, we would end every practice with a mini-soccer game followed by a two-minute conversation about the game. The drills were good and important. But the real learning happened while playing in a game of soccer. The two-minute conversation was designed to get the kids thinking about what they did and what they wanted.
"The game is the best coach." It occurred to me that this idea can be used in every aspect of life. Of course, it is only effective if 1) you choose to play and 2) you want to be coached. (Even the best athletes choose to be coached.)
To use a Karate Kid analogy, you can wax on/wax off all you want. But it serves little purpose until you begin to apply what you've learned in an actual karate match. Likewise you can't begin to improve until it has been tried. And then tried again. The game is the best coach.
Read all you can about playing the piano. But until your fingers start striking the keys, you're not making any music (or noise).
Your life is the best coach. Study and learn. And then put it all to use in living. Pause regularly, but briefly, to question and evaluate your performance versus your goals. Or your current results against your desires. Then get back to the game. Pay attention. Learn to leverage life's lessons. Let it coach you.
As I considered all of this while running, I made note of a few my own life's best coaching moments. Or, at least, the ones I have come to recognize so far. I'll share some of them throughout this Journey. In the meantime, you can read how a few of them led me to A2B on The A2B Story page.
The Journey:
I continued 5.5 miles down East Arrow Highway through San Dimas.
The City of San Dimas was the setting of the 1989 film, "Bill & Ted's Excellent Adventure." Although most of the movie's interior and exterior locations were shot in Mesa, Arizona. Karyn Cunningham correctly guessed yesterday's trivia question first. Kevin O'Bryant was a close runner up! Each win the Sports Bean 5-Pack.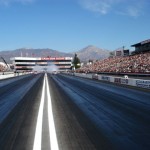 Today's leg of the A2B Run completed 67 miles at the Pomona Speedway, a quarter mile dragstrip that will be host to 40,000+ fans at the NHRA Finals in November.