The Journey – 367.5 Miles: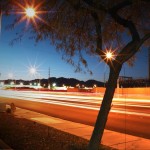 Six miles further down the A2B Route. Leaving the Spring Valley community of west Las Vegas, the route followed Flamingo Road west through a few miles of shopping centers and strip malls. The last few miles wandered through several golf communities before ending todays run by the Arroyo Golf Club.
The Run:
I recently used an online mapping tool to create some new running routes. Today I ran a new 6-mile route. Most of it was unfamiliar to me. About 3 miles of it runs through parks and greenways.
Regardless of how familiar (or not) I am with a new route, I always allow for extra time when running it for the first time. There are almost always a few surprises along the way. Today was no different.
The first surprise was when I could not find the entrance to the greenway. After a turnaround or two, I found it and was back on track.
Surprise #2 came when I discovered that my route runs up a steep and somewhat long set of stairs. I had not caught that in the mapping application.
Finally, the last 2 miles were on roads that I had driven down a number of times. However, even on the most familiar roads, the terrain is quite different on foot than when in a car. There are hills that you never realized were there. So when I came upon the steeper-than-expected uphill grade in the last mile, it threw me a little.
The good news is that once traveled, the no-longer-new route holds no more surprises. The now familiar challenges on the route become less intimidating, especially knowing that you already conquered them at least once before.
The Mind: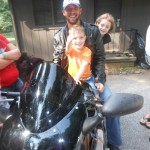 I typically do not like to spend a lot of time dwelling upon the past. However, this morning I allowed my mind to wander back.
Very, very early in the morning 22 years ago today, I saw my oldest sons face for the first time. He came into the world very quiet and blinking.
As I ran this morning, I replayed in my mind a steady stream of scenes from the past 22 years. They made me smile, laugh, and shed a few tears.
I look at my son now and my heart overflows with love and pride. He is tall, strong, and handsome. I watch and admire him for his focus, determination, and work ethic. He is a much better young man than I was at that age. I am proud of him.
At a family reunion this past summer, I got to watch him play and laugh with his sisters and brother. I appreciated how he took time with his cousins, especially the younger ones. I love those moments.
I am more than grateful for this young man that I get to call son. I am even happier that I get to be his Dad!
If you have any thoughts or ideas that you would like to share, please do so at:
Facebook: http://www.facebook.com/A2BRun
Twitter: https://twitter.com/RunA2B
Email: a2b@sub4minds.com
Or in the comments section below