The Journey – 394.0 Miles: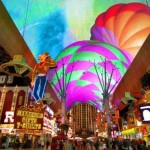 Leaving Las Vegas Boulevard briefly, I got to run by some fun and interesting landmarks. The first mile of today's run led past the Mob Museum where highly interactive exhibits carry you through the history of organized crime in Las Vegas. You can even see what it's like to shoot a tommy gun. (One more thing to check off the bucket list!) What tour through Las Vegas would be complete without a mob encounter?
Next on the A2B Route was a run through the Fremont Street Experience. How to describe this . . . . A sort of outdoor mall that is four blocks long, has 10 casinos (including the iconic Golden Nugget), 60+ restaurants, and two concert stages with free live entertainment. Also, there is Viva Vision!! This is a 90 ft. high, barrel vault canopy with over 12 million LED lamps and 220 speakers on the underside of the canopy. The effect is a 4-block long high definition TV screen!
After Fremont Street, the route returned again to Las Vegas Boulevard heading south and finishing today's leg just before Strip.
The Run:
I have been working to reduce the normal "next-day" soreness that results from the more brutal runs. Twitter friend, Tim Taylor, pointed me to an article with 8 tips to prevent soreness.
Some of these I already do. To me, movement, stretching, and massaging muscles are essential to recovery. I also take advantage of a Jacuzzi when possible. Otherwise, an Epsom salt bath fills the bill. Only occasionally will I ice.
I am working to be more consistent on consuming foods that are Omega 3 rich. Also lately, I have been resisting the urge to pop open the ibuprofen. I especially like tip #2 which suggests a rapid recovery drink with a 5:1 carb to protein ratio. Per the article, this could include a glass of chocolate milk! Love that part!
All in all, I have to say that applying these tips more consistently has noticeably tempered my normal soreness. It also makes starting the next run a little smoother, as was the case today.
The pre-run stretch was mostly absent of the slight stinging that accompanies soreness. Likewise, I was able to get into a very good pace without distraction. Nice!
Before too long, I reached that point that I love where my breathing becomes steady and clear, my arms drop, and my stride naturally lengthens. The run feels like one long smooth motion!
Keeping my pace and stride, I completed the remainder of this 6 mile run. And, I was thrilled to be running again after my rest day.
The Mind:
hu•bris  [hyoo-bris] – noun
excessive pride or self-confidence; arrogance.
I completely enjoyed the run today!
I found myself smiling most of the way. It is not unusual to find another runner or cyclist along the way with the same wide-eyed smile. I sometimes wonder if drivers notice the grin and, if so, what do they think.
There was a point when I looked down at my legs and saw them surging and flexing with each stride. I love the way that looks and feels.
Admiring my physique made me laugh at myself. It reminded me of a time not long ago when a friend and I were having an argument about something important that, of course, I cannot recall. At a moment when the debate was reaching a boiling point, I remember reaching down and feeling the muscles in my legs. Then, almost involuntarily and without reason, I heard myself say out loud, "I really like my thighs!"
It was stupid, goofy, and funny. Completely irrelevant! And the argument – whatever it was about – was over.
Back to the run . . . .
Whenever I achieve a runner's high like today, I feel powerful and alive!! Oddly, that feeling is reinforced with gratitude for the gift of movement that I enjoy. Especially based upon my experiences over the past few years.
As I crossed my finish line, I celebrated with a fist pump or two and some modest manly flexing that would seriously embarrass my children. But it was a good run. A very, very good run! I can't wait for tomorrows run!
(BTW, I really do like my thighs!)
Please share your thoughts or ideas at:
Facebook: http://www.facebook.com/A2BRun
Twitter: https://twitter.com/RunA2B
Email: a2b@sub4minds.com
Or in the comments section below