Happy July 4th!!! And a BIG congratulations to all who finished the Peachtree Road Race in Atlanta, Georgia!!
The Journey – 246.2 Miles: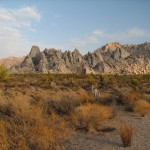 Today, the virtual A2B Route completed a continuous and daunting ascent to just over 4,000 feet. Entering the Mojave National Preserve from the south, Kelbaker Road climbed and curved its way past the Sweeney Granite Mountains to the west. The University of California has a research center here to study and protect over 700 various species of plant and animal life. Likewise, the center studies an imposing array of granite landmarks. Today's run ended by cresting at Granite Pass.
The Run:
Today's run fell into the "Glad-That's-Finally-Over" category. It was not a feel-good run. Sometimes that just happens. But, if truth be told, I am partly accountable. I slept in far too late this morning, allowing the mercury to climb to within rounding range of triple digit temps.
Determined to meet my goal for the week, I quickly began preparing for a hotter-than-desired run by stretching and hydrating. Afterwards, I grabbed a water bottle out of the freezer (should have grabbed two) and started out.
Though I made it back in "Un-Record Time," I was happy to have completed the run and won over the discouraging thoughts that seep in during such runs.
The Mind:
Most of my mental energy was focused on the run itself.
During part of the run, I concentrated on maintaining stride and pace. I used music for keeping a pace. For my stride, I continually made sure to keep my arms low and pick my knees up high.
Several times, I had to focus on fighting off invading thoughts about stopping, walking, or curtailing the planned distance.
There were parts of the run where I simply enjoyed the countryside on today's course. It was beautiful! (Today's actual run occurred in Spring Hill, TN.) I enjoyed thinking about how my oldest son might enjoy running past all of the wooden-fence-lined farms on some of his early morning runs . I wondered if he would enjoy living on one of the local farms.
Thinking of my children, I happily finished the run.