The Journey – 217.7 Miles: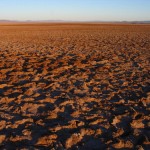 With less than 100 miles before crossing over into Nevada, the A2B Run turned off the Bagdad Highway and briefly onto America Mine Road. Then beginning a due north route, I continued the A2B Virtual Run up North Amboy Road. Today's leg finished up just south of Amboy, California in the dry lake bed of Bristol Lake.
The Run:
This morning's run was trailblazer of sorts. I moved this past weekend to a new neighborhood. So with no predefined course, I just started running. Being only slightly familiar with this new part of town, I had planned to stick with main roads. However, my wanderlust challenged that thinking and won!
It was fun to discover new pathways and scenery. I enjoyed waving to and being greeted by new faces. I discovered some small shops, restaurants, and a park that I might not have caught by just driving.
After doing a couple of "wrong street" turnarounds, I finally made it back to my new and unpacked home.
Great first run in my new setting!
The Mind:
While observing the all of the landmarks in my neighborhood, I thought about my current living situation. I chose this move for practical / functional reasons. But also, I love the part of town where I now live. I expect to enjoy the environment very much.
My new apartment, however, not so much. Being a much older property, it does not have many of the amenities and comforts that I would normally prefer. For this and a few other reasons, I may not stay when the lease expires.
So my thoughts were all around what to do when the lease is up in a few short months. I envisioned where I want to be in terms of personal goals and all of the things that need to happen between now and then. From that, I determined that I am going to be quite busy for the next few months. I am excited about all of it!
As for the current living space, I am happy to make do for a while. Especially if it leads to bigger and better things!