The Run:
Today begins a transition into some new running habits for the summer.
Each year as winter thaws into spring, I start running with a bottle of water. With me, the warmer the weather is, the more water I drink while running. So far this year, a standard ½ liter bottle of water has been plenty for each of my runs . . . . until today. It was unusually hot today. At about mile 3, I realized that I had 4 miles to go and had already consumed too much water. So for the rest of the run, I had to carefully ration the remaining water.
At this point of the season, preparing for my long runs calls for a few extra steps. Before each run, I drive my route to drop 1 or 2 water bottles (depending on distance) at even points. Afterwards, I drive around to pick up the empty bottles. As the weather gets even warmer, I'll put Gatorade in one of the bottles. Finally, in the really hot months, I put the water/Gatorade bottles in the freezer the night before.
If this is something that you think you might do, there are couple of lessons learned that I would like to share.
First, if you find that your frozen water melts before you get to it, then try running faster! If that's not an option, consider wrapping your frozen bottles with a paper towel or two. This will provide some insulation. Also, be sure to place it out of direct sun light on your route.
Second, Gatorade melts faster. So think about the placement order when doing longer runs.
Next, be strategic about where you place the bottles. They have a higher tendency to 'walk' when placed in the more public places. I know some kids in my old neighborhood had a great laugh once while watching some 'old' runner try to figure out where his water went.
Finally, do NOT tell facetious family members or friends where you made your water drops. Otherwise, you might find your water supply missing. Or worse, laced with salt, pepper, vinegar, Sprite, and other assorted / unexpected flavors. I always wanted to fake dehydration when that happened. But I don't really know how to do that. So I guess laughing is the next best thing.
The key point of all of this is that it is worth a little extra effort to stay hydrated!
The Journey: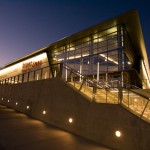 Today's leg of the A2B Journey continued eastward on East Fourth Street through Upland, Rancho Cucamonga, and Ontario. This part of the route passed by Palm Tree Hydroponics, a retail store dedicated to the cultivation of plants in nutrient solutions rather than in soil. A few miles later I passed just north of Ontario International Airport, departure point of the most white-knuckled flight that I have ever experienced. (It is where I also heard the funniest flight attendant told joke ever!) I did my post-run cool down and stretch on the steps of Citizens Business Bank Arena, in Ontario, CA. St this point, I am just a little passed 74 miles.