The Journey – 398.5 Miles: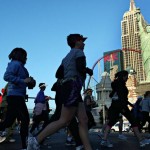 Today's leg of the A2B Route ran straight down the neon-emblazoned Las Vegas Strip. The Mirage, Caesar's Palace, The Bellagio, Paris, Planet Hollywood, New York New York, MGM Grand, Excalibur, Luxor, Mandalay Bay, etc. Each casino has its share of restaurants, shops, and live entertainment. Clearly, there is a never-ending barrage of delights for all of the senses in Las Vegas! (Sometimes, all at once!! What happens in Vegas . . . .)
After all of the stimulation of the strip, this part of the A2B Journey ended on East Sunset Road just below Runway 1R/19L of McCarran International Airport (LAS).
The Run:
I skipped the morning run so that I could do an evening run with the running club. There were about 30 people there, including a few friends that I had not seen for several months. We all chatted and caught up while stretching.
The weather was near perfect. Temperatures in the low 60's and dropping. Low humidity. And clear skies.
I decided ahead of time to really focus and run hard on this hill-ridden course. I made sure to start with a moderate pace and stick with it for the first few minutes. (Like most people, I have a tendency to start off too fast when running with a group or in a race.) After 8 minutes, I began slowly but steadily increasing the pace all the way through to the finish line. Whenever I came to a hill, I charged up it by leaning in, pulling my arms up a bit, and running a little faster. On the way down the hills, I rested by dropping my arms (which allowed my stride to open up), breathing deeply, and coasting (aka letting gravity do its thing).
It took me a few minutes after crossing the finish line to realize that I had just shaved about 12 seconds per mile off my best time! I had set a new Personal Record (PR) by a LOT! After checking my math with the calculator on my phone, I had a quiet celebration as I cooled down for 10-15 minutes. I was thrilled with the new PR!!
The best part was later as some of us were walking to a restaurant for a post-run dinner. One of my friends who had been absent for a few months made her way over to me and said, "You know, you've gotten a LOT faster over the past 3 months!"
The new PR is my own personal victory, so I had not said anything to anyone about it. While I was/am excited about my new standard, I cannot begin to say how nice it was to have a fellow runner recognize and acknowledge the good run that I had.
I made a mental note to look for and do the same for others.
The Mind:
Clearly, all of my thoughts were focused on having a good run. Despite the description in the section above, there were a few challenges.
First, I mentioned that I had to resist the urge to start too fast. It might seem strange, but this took some serious patience and conscious effort. I chose to think of the time when my son ran and won the 800 meter race at the Georgia State High School track meet in his senior year. Checking his watch at 200 meters, he recognized that he and the other front-runners were running too fast. So he immediately "slowed" to his race pace (the one for which he had trained). Sure enough, the other front-runners, unable to maintain that starting speed, ran out of gas. My son, keeping is pace, had energy for a final sprint to smoothly cross the finish line in first place. (Thanks Blair for the help!)
Next, to help put pressure on my pace, I focused on the runner in front of me. I made sure to steadily close the gap and then pass them. I did this again and again until I could not see anyone else ahead of me. (Note that there are runners in this group are MUCH faster than I am. They were all so far ahead of me that I lost sight of them as we wound through various neighborhoods.)
There is one part of this course that always gets to me. It is a couple of hills over about a half mile distance, One hill is long. The other, steep with a very short downhill in the middle. But the real issue is that this part of the route seems to always happen just before I get my second wind. In other words, it is the part of this run where I usually feel the most tired and the most vulnerable. So, to help me through, I created a small playlist of music that, not only matched my desired pace, but also was positive and rich with bold harmony and texture. Music like this really lifts and motivates me. Pre-2nd wind weariness has a hard time competing.
Right on cue, I was rewarded with a small second wind at the summit of hill #2.
With about a mile remaining (the last ¾ mile is all uphill), I rounded a curve. It was then that I noticed a small group of 4 younger guys running about 5-10 yards behind me. Even though I was pretty sure that I was on track to set a new PR, me and my ego did not want to get passed. I chose to leverage music once again. I switched to songs that were very high energy and significantly faster paced. I managed to stay in front.
Full of excitement in the last 200 yards, I picked up more speed and then fell into a sprint towards the finish!
I checked my watch as I crossed the finish line. However, being engaged by a series of high-fives from the runners who finished earlier, the PR did not exactly register. It was not until someone asked me what my time was that I did the quick math.
I thoroughly enjoyed my run tonight. It seemed more mental than physical. I like that combination of intense physical and mental focus. I also discovered that it worked a little better if I allowed a little emotion in the mix at the appropriate times.
Tonight's PR means a lot. It means one step closer to my bigger running goals. It clearly puts my next goal for the year within reach. It strengthens my own belief that I am capable of reaching all of my goals.
Thoughts? Please share at:
Facebook: http://www.facebook.com/A2BRun
Twitter: https://twitter.com/RunA2B
Email: a2b@sub4minds.com
Or in the comments section below